An exclusive collection of "Tinder pickup lines" is here.
Online dating depends on your ability to keep things fresh and new. It's certainly not everyone's cup of tea. Many facts and myths have been created around this but one thing that is true for a fact in online dating is pickup lines. Whether it's social media, a Tinder-like platform, or any random chat platform. It is necessary to make a first impression.
First impressions can be of any kind. You can crack a joke or you can appreciate someone for their qualities. Usually, people go for these two genres but you can go for corny, cheesy, or any other kind of pickup line.
I have written over 120 best "pickup lines for Tinder" I came across in my life. But before you read them and use them on someone, hear me out. It is necessary to go through someone's profile and understand some basic things about them.
Your first opening should feel that it is specially curated for that specific person. That impression if you can make and make the other person laugh a bit, You have a pretty good chance of getting a date soon.
Best Pick up Lines for Tinder to Open the conversation
1. I heard of "love at first sight" but fell in "love at the first swipe".
2. Hey, will you be your caffeine? I need to stay awake the whole night.
3. I saw you somewhere. In school, we had chemistry right?
4. Do you remember me? We met in my dream last night.
5. You look so familiar. Didn't we take a class together? I can swear we had chemistry
6. Do you like magic? Give me your number and I will make your phone ring.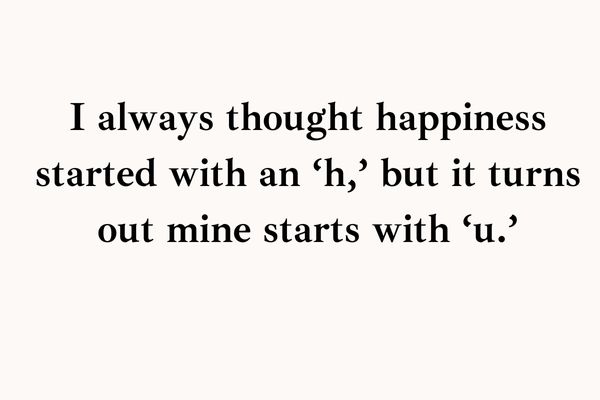 7. If I knew you existed, I would pray for you my whole life.
8. If you like star wars, Yoda only one for me.
9. Leave a 10, I am the 1 for you.
Read the Best Pick Up Lines
10. You are the spiciest thing here and Guess what I am an Indian.
11. Turn 360 degrees. You will find the love of your life.
12. How much is 4+5? Nine. Will you be mine?
13. Grant me to take your hand, I promise I will never take it for granted.
14. If driving people crazy was a sport, you would win every time.
15. You are the spiciest thing here and Guess what I am an Indian.
16. If We were on Titanic, you are the one I would have saved.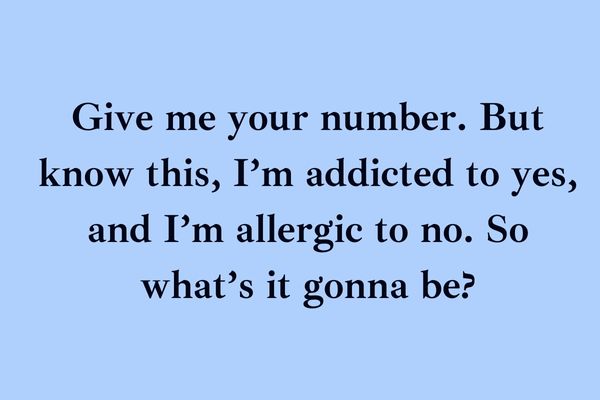 17. Are you on Twitter? I want to follow my dream.
18. Roses are Red, and Violets are blue. Summer is hot, and so are you.
19. Everyone says tinder is a numbers game. So, can I have your number?
20. Aha! Here you are on Tinder. I have been looking for your everywhere.
21. Can I have your number? My phone is really sad without it.
22. Oh! you exist in real life. I read you yesterday in a book, written as Gorgeous.
23. How much does an elephant weigh? Enough to break the Ice.
Best Cheesy PickUp Lines for Tinder
24. We don't even know each other and we are already matched. I like where this is going.
25. Not everyone can touch you, You are too hot.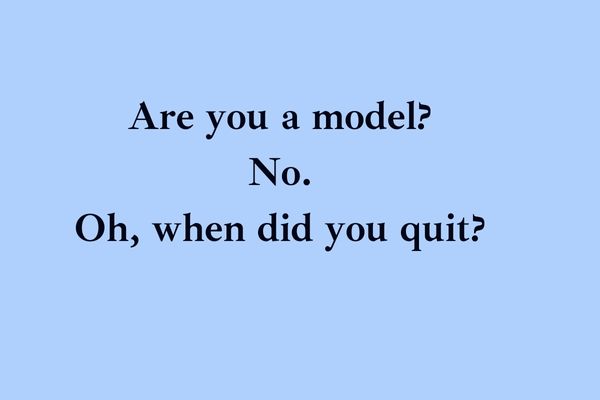 26. Am I too lucky or the world is blind? How come the hottest girl is single till now?
27. Who let you out like this? Girl! You are a bomb.
28. If I had 3 wishes, I would wish to meet you 3 times.
Do you play Truth or Drink questions? Read 250 best Truth and Drink questions here.
29. Aside from taking people's breath away, What do you do for a living?
30. You have all the colors in your eyes that's why it becomes dark when you close your eyes. Don't believe me? You can try closing your eyes.
31. You must be a really good painter. You just drew me in so easily.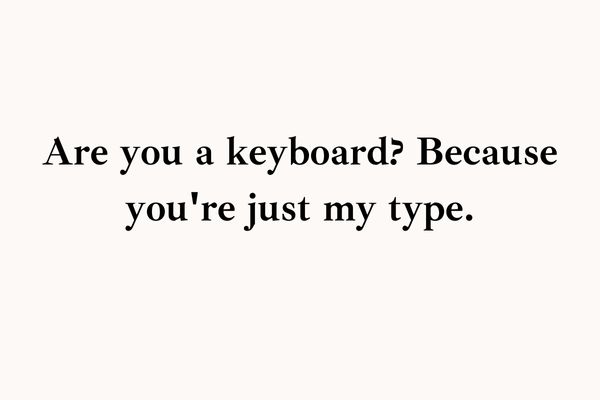 32. Guess what's missing in your bio. Bae with my name.
33. You should be the hottest single on Spotify this week.
Best Funny Pick Up Lines for Tinder
34. Damn Girl, You can walk right into my heart.
35. I like quizzes. Only bcoz "U" and "I" come together in it.
36. I didn't know you could do magic, My eyes are just stuck on you.
37. Do you have a band-aid? I got injured by your lethal smile.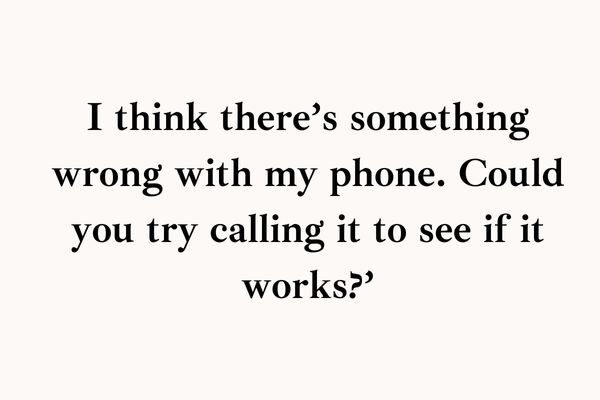 38. Don't be scared if an old white-bearded man kidnaps you. I asked you from Santa as my Christmas Gift.
39. This text is from your future husband. Tell me, love, when are you free this week?
Fan of Knock-Knock jokes? Click here to read 110 of the best knock-knock jokes.
40. I will be your prince. Will you be my Tinderella?
41. Is your nickname "Global Warming"? You have been making the hotter.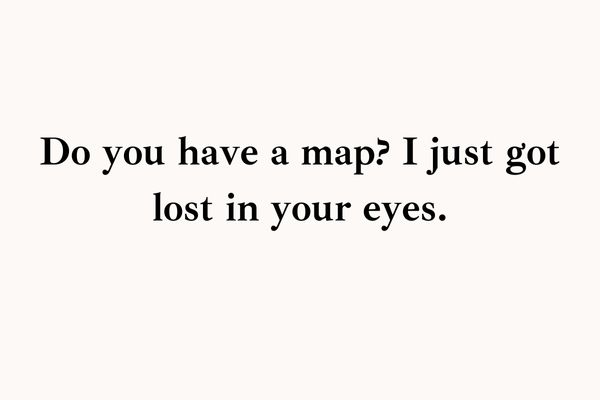 42. I wish I was a photographer, So I could picture us together.
43. You look like my favorite coffee, Hot and Lip-smacking.
44. Your eyes are so deep like an ocean, I can swim all day in them.
45. If you ever need a place to crash, my arms are the perfect place for it.
46. You look like the answer to all my prayers. Thank God.
47. Somebody should take you to Doctor. You just fell outta heaven.
Best Tinder PickUp Lines for Boys
48. Valar Morghulis, My queen. Winter is coming. It'll be nice to have a cuddler by your side.
49. It was a pretty boring day till I hit a match with you.
50. We matched. Should we get married now?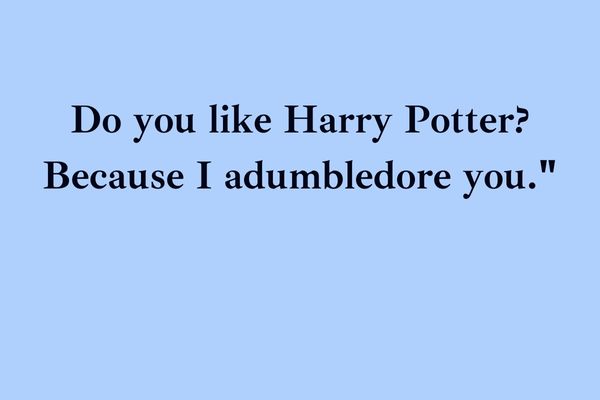 51. You can give me your number or ask for my number. I am fine with both.
52. I am writing a paper on finer things. When can I schedule an interview with you?
53. Roses are red, and Violets are blue. I am not pretty but look at you.
Want to read something extremely funny? Read the funniest jokes ever about adulting here.
54. I lost my nickel and penny yesterday. But it looks like I found a dime here.
55. You are a gym lover. I know this is a stretch but we could work something out together.
56. You have a nice name. But would you like to be called "Mine"?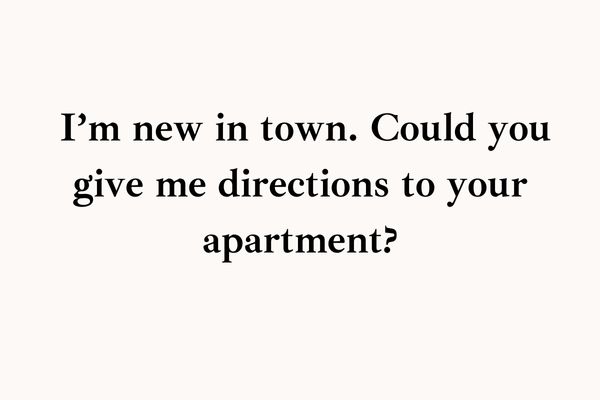 57. Are you Russian? I am Russian too. Russian to go on a date with you.
58. It says you are 5.6 in your bio. But you like a 10/10 to me.
59. If you were a triangle. You would be a-cute one.
60. Where are you from? Space. Cause, You don't look like from this world, Good-Looking.
61. If you were a fruit, I am pretty sure you would be a fine-apple.
62. Hey Girl, Are you from France? Cause, Ei-fell for you.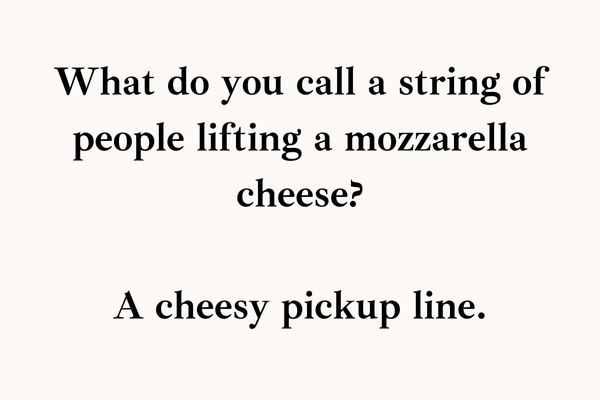 63. After seeing your eyes, I can say they are more colorful than the horizon at sunset.
Best Tinder PickUp Lines for Girls
64. Somebody sold me kiss-proof lipstick. Would you like to test if it works?
65. Do you play soccer? You look like a keeper.
66. Do you have a personality as intriguing as your profile?
67. Hey, I need to go to Handsome city. Would you send your location?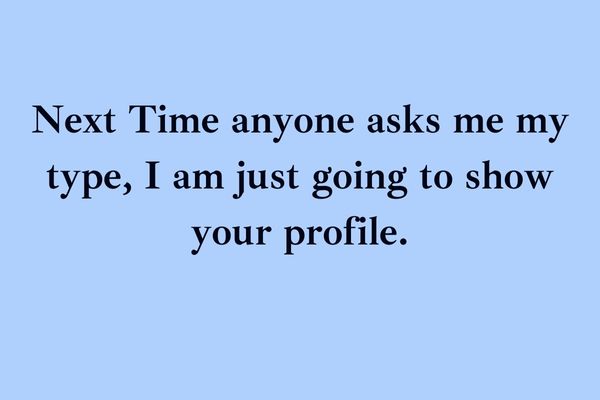 68. If you were chocolate, Hershey's would run out of business.
69. I have seen you somewhere, Are you a model?
70. You write it correctly that you are from Tennessee. Because You are the only 10 I see here.
Ever found your blank after somebody said a pun? Click here to read 90 puns about puns.
71. There is a girl who has a crush on you. If I wasn't shy, I would have told you.
72. Nice, I like your cap. What is it made of? Boyfriend Material.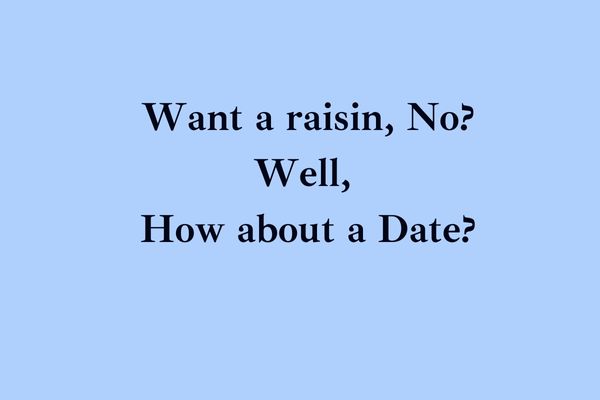 73. If you go to a palm reader right now. He will tell you that you have a date Sunday evening with me.
74. My mother told me to not talk to strangers but I guess I can make you an exception.
75. As a doctor, I am prescribing you vitamin "Me".
76. Boy, I can't decide who is hotter between you and my laptop.
77. Hey, My friend is asking for your number. Send it to me.
Flirty PickUp Line for Tinder
78. Roses are Red, and Violets are blue. Summer is hot, and so are you.
79. Kiss me if I'm wrong, Superman is real.
80. Hold it against me or not, You have a great body.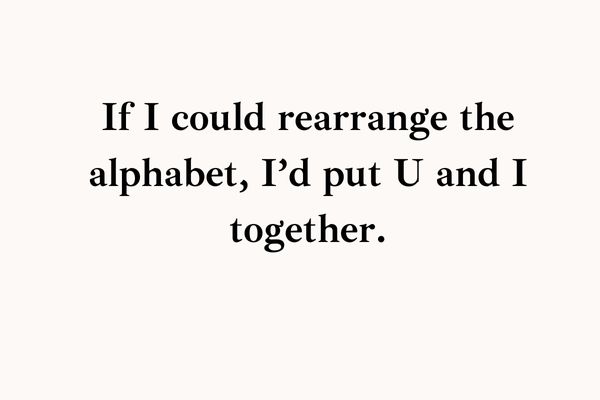 81. Are you a dinner person or direct to desert person?
82. If I want to hear your voice, what number should I dial?
83. Hey, It's an emergency I need a kiss. I promise I will give it back.
84. If rebirth is true, In my 7 lives my partner will be you.
85. You are so hot, My jaw is falling for you.
86. Are you a Maze? Cause I am getting lost in your eyes.
87. If you come to my place, W can make two pairs. My Wifi would pair with your phone and me with you.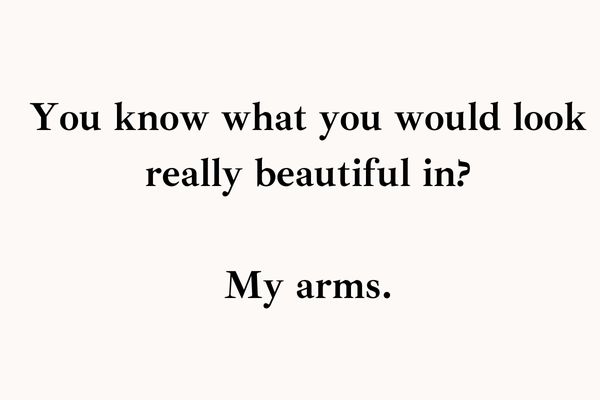 88. I remembered a pretty good pickup line till I saw you.
89. If I was a printer and You were words, I promise you would have the finest print.
90. **** *** **** is my number. I dare you to call this number at night.
91. I am a fortune-teller. And I can tell that we are going on date when you are free.
92. I gave up on finding love, But then I saw you.
93. Roses are red, Violets are blue, Would you mind If I come to you?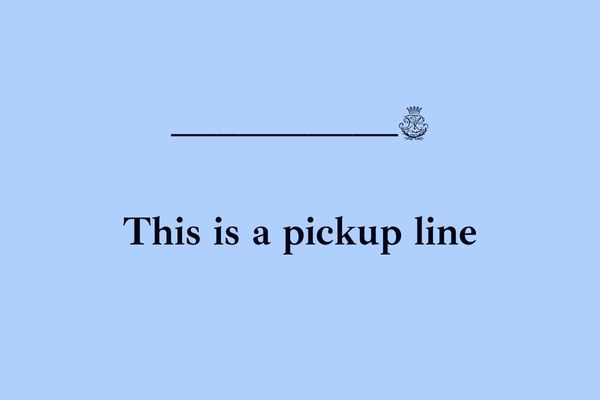 94. Roses are red, and Violets are violet. Here is my number, why don't you dial it?
95. You must have been a goddess in a previous life, that's why you are so divine.
96. I did some really nice things that I matched with such a hot girl.
97. I'd say God bless you, but I think he already did.
98. You kiss me or not, that's what I am going to write in my diary.
99. I have been crushing over you for 4 hours.
100. Were you or your parent boxer? Cause you are a knockout.
Corny PickUp Lines
101. I am a pretty responsible person. I have a wife and a child…somewhere.
102. We are a match because I like bagels and You are bae goals.
103. I don't know what to be for Halloween. Could I be yours?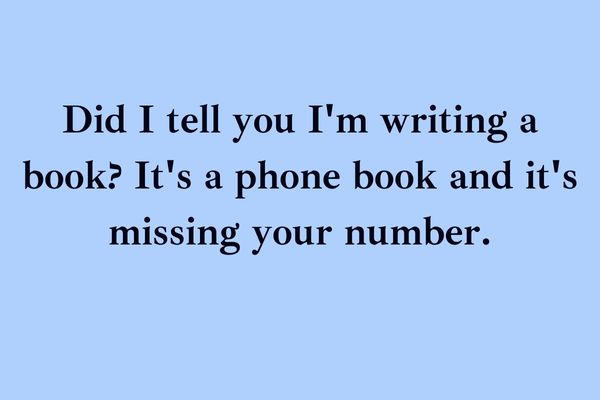 104. Hey, when is your birthday?
Her: oh it's November 11.
Me: oh that's funny. That's the same birthday as my next girlfriend.
105. Are you a ghost? You have been haunting me in my dreams.
106. You might be old school, but you still like high school.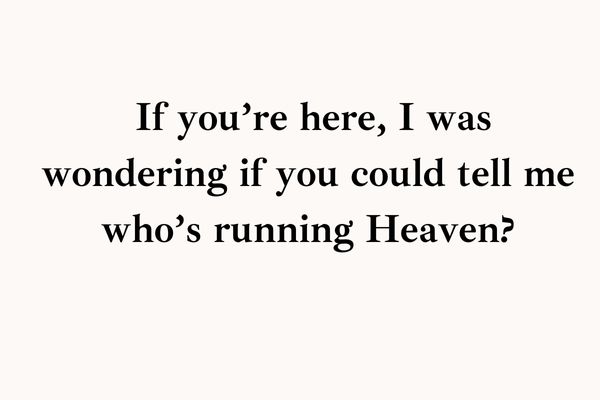 107. Are you the opposite of the left? Because you seem just right for me.
108. If I had 4 quarters to give the prettiest girl on earth. You would have 1 dollar.
109. You wrote in your bio that nothing lasts forever. So will you be my "Nothing"?
110. If we were gloves, we would definitely make a pair.
FAQs about choosing a right Pickup Line on Tinder
What are good lines for Tinder?
1. Are you from space? Because you're out of this world good-looking.
2. If you were a vegetable you'd be a cute-cumber.
3. All your pics came through at a 45-degree angle
What is a good Tinder intro?
Depends, but we suggest to open with a line that shows them that you've taken the time to look through their profile.
What should I say on Tinder after opening the line?
Go slow, evaluate the answers, and do not boast about yourself. Ask about their hobbies and interests
How do you pick up girls on Tinder?
1. Tailor your opening message to her bio (including her pictures & interests) Be bubbly and upbeat.
2. Avoid generic opening messages, since she'll see hundreds of these.
3. Don't be crass, hypersexual, or vulgar.
4. Steer the conversation towards going on an actual date.
Final Words about "Pickup Lines For Tinder"
Find the best pickup line for your crush or match here. Curate it as per their taste and choices. All the best from our side. You can use these pickup lines even in real-life situations. So you can save this article and website if you need to find the best pickup lines in the future too. Let us know in the comments if you liked this collection, Share it with your friend circle to help them find the best pick up lines.
We also have couple nicknames, Boyfriend contact name ideas, & Girlfriend nickname ideas for you all.