Cat and Monkey Story in English for Kids, its a short 2 minute story with great moral and lessons. Every Kid must read this story. Monkey and Cat story for Kids in english.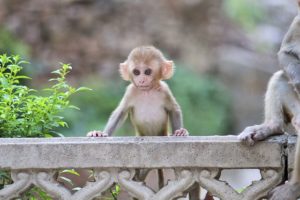 "Monkey and Cat " story –
Once upon a time, two cats found a piece of bread. Foolishly, they started fighting for it. The first cat said it was his, but the second cat refused and claimed it to be his. A clever monkey was walking their way, he saw the two cats fighting and decided to help them. Therefore, He took the bread and told them that he would split it in two half's and share it equally among them. The cats agreed to his idea. But when he did this, one piece was bigger than the other. So, he took a bite to make it equal. This time, the other piece was bigger.
This went on for quite a while. He kept taking a bite off from each bread to make sure it was the same size. However, in the end, he ended up eating the whole bread. The cats got angry and asked him why he did that, the clever monkey replied by saying that if they had dealt with the problem on their own and shown concern for each other rather than being greedy, this wouldn't have happened, but since they were stupid and could not do that, they both lost what they could have. The happy monkey went home after enjoying a great meal while the two cats just stood there with a feeling of rats running in their stomach.
Moral of Story – When you fight, its always the third one who gets benefitted out of it.
More Short Stories with Moral, Collection of Popular Short Stories for Kids | Bedtime stories for Kids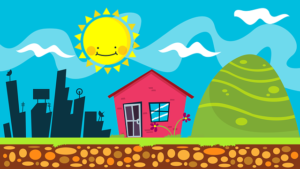 Hindi Story for Kids- Ultimate Moral Stories – बेहतरीन, मनोरंजक, प्रेरणादायक बच्चो की कहानियां एवं हिंदी स्टोरीज़। ( Best Hindi Story and Baccho ki Kahani Collection)  यह बच्चो की कहानियां आपको ज़रूर पसंद आएँगी।  Collection has 5 Hindi Stories – Akbar Birbal Hindi Story, Raja Story in Hindi, Crow Story in Hindi, Hindi story of ... Read moreहिंदी स्टोरी – बच्चो की कहानी | Best Hindi Story and Baccho ki Kahani with Moral – Nov 2019
Read More